GOSAC DAY- FOREST LAKES 2019
Thousands of people came to support, donate and talk to us about rescuing strays. 
Glenn Dewhurst – Mayor – City of Gosnells, Councillor Terresa Lynes – Deputy Mayor – City of Gosnells, Cr Julie brown, Cr Julie Jones, Cr Gary Smith, Rotary Club of Kenwick, Forest Lakes Shopping Centre management, Coles manager and so many more.
We raised $1500 in cash, thousands of dollars worth of supplies and many applications to adopt the super cute puppies that came to visit. 
We have the best community, I am so proud to be a part of it.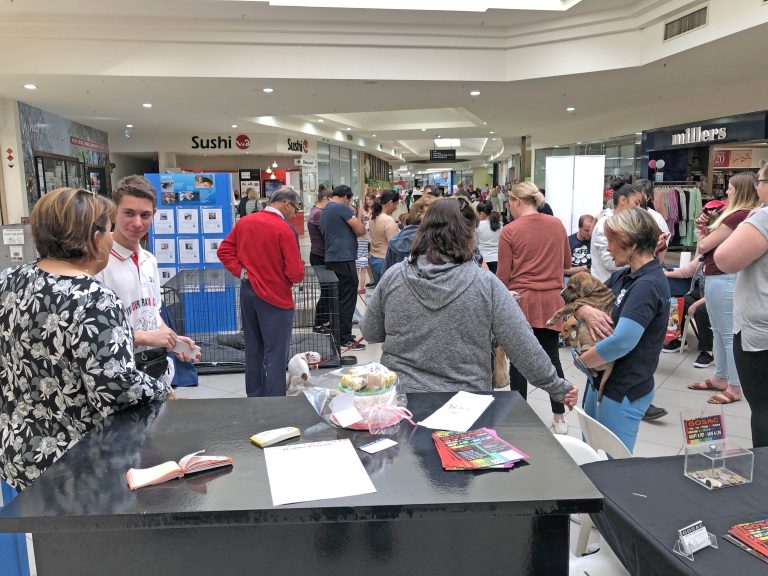 All Animal Rescue Adoption Day
Hosted by Staffy and Bully Breed Rescue Inc. 
It was an amazing day where SO many WA animal rescue groups came together to raise awareness, donations and help the strays of Western Australia.
GOSAC DAY- HALLS HEAD 2019
K9 Rescue Adoption Day - Mandurah
I sold GOSAC – Give Our Strays A Chance pens to raise money, I talked to people about the importance of rescuing strays and I had alot of fun with Santa Claws 

It was great to see everyone supporting K9 Rescue Group including Mandurah's Mayor Rhys Williams.
I raised almost $400 for the strays and I am sure many stray dogs were adopted. 
I also delivered puppy pads, chicken mince and good quality food for the nursing mum.
GOSAC DAY 2018
Cats, dogs and bunnies were available for adoption.
Face painting for kids (thank you so much Carol Easton).
Miss Teen Galaxy Australia and Mrs Galaxy Australia 2018 were handing out flyers and having photos taken with fans.
My HUGE raffle was drawn! Check out the prizes by clicking here  (winners contacted)
We had a great turnout and a really successful day. 
We raised $1738.90 for SAFE Perth, a huge amount of items, we received many foster application forms and most importantly we received many applications for adoption. 
Happy tails day was great! Hamish, Janet and I raised funds at the Perth CBD. Together with all the volunteers we raised $16,250 for the strays of WA! 
Kelmscott Show was awesome. We have raised about $635 for the strays and there was so much inter

est in our puppies looking for a family to call their own. 
K9 Rescue adoption day 2017
Mandurah's K9 Rescue have opened their shelter for the public to come and adopt the stray dogs!
GOSAC was there to help out and sell some pens to raise money to feed the dogs and towards vet bills. 
It was an awesome day!
CHRISTMAS LIGHTS FOR GOSAC 2017
This is the second year that the Butler family has been raising donations during the holidays for GOSAC.
This year they raised $120.25!!
Thanks to them, SAFE Perth – Saving Perth Animals from Euthanasia animals will have a better start to the year.
KELMSCOTT SHOW 2017
Kelmscott show 2017 was a huge success:
Many strays were adopted
Money raised: $692
We received many foster carer applications
I also got the chance to explain to many adults and kids why it is important to adopt strays.
DE STRESS DAY 2017
De Stress Day at the university of WA. Results:
GOSAC raised $301.40 for SAFE Perth (Saving Perth Animals From Euthanasia).
Thank you
Univeraity of WA PAW
 people for inviting GOSAC and thank you for the little present and card that you gave me!! It was an awesome day
?
GOSAC DAY 2017
RESULTS:
GOSAC DAY RECORD!!!
* $2080.60 was raised in cash
* Thousands of dollars worth of items were donated
* Many dogs and cats were adopted!!
* Many volunteer application forms were received
* Dozens of happy donors who won a raffle prize
** All donations go to SAFE Perth (Saving Perth Animals From Euthanasia)
CHRISTMAS LIGHTS FOR GOSAC
My friend and his family live in a street where every house has Christmas lights. They all collect donations for different causes. I am lucky enough to have them raise donations for GOSAC this year.
$650.50 were raised.
Thank you AWESOME Butler family!!!! Many animals will be saved thanks to you. 
DE STRESS DAY – University of WA 2016
Total raised $231.80 for SAFE Perth
So many students volunteered to foster strays and help!
GOSAC DAY 2016
Total raised  – $1338.90
4 cats were adopted and many foster carers volunteered. 
Thousands of dollars in item donations.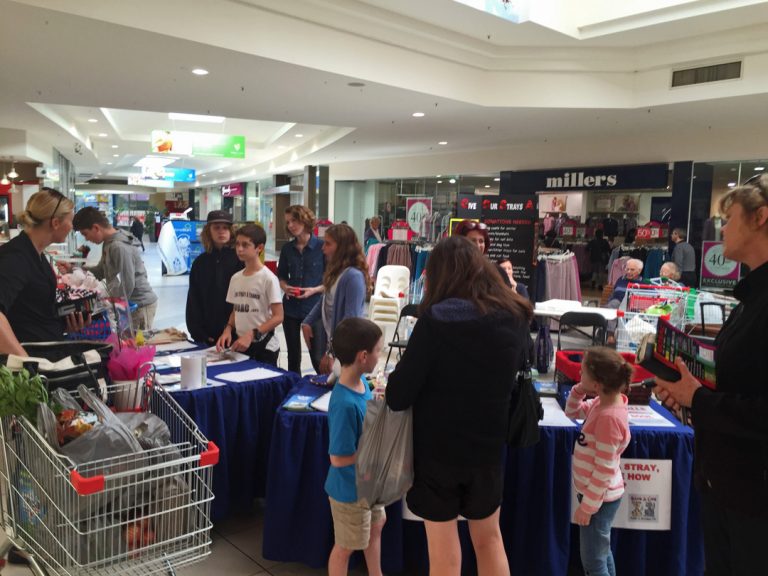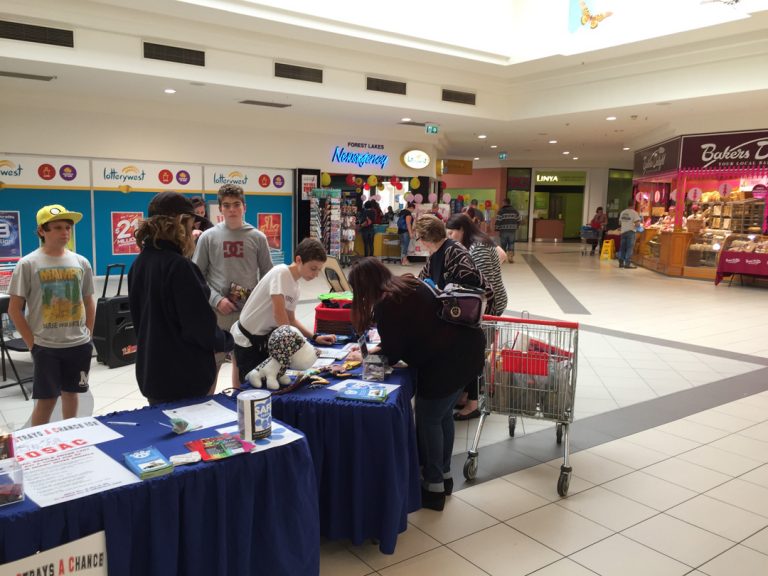 UNIVERSITY OF WA
DE-STRESS DAY 2015
GOSAC was invited to participate in the University of WA De-Stress day.
It was an awesome day!
$300 was raised
Many UWA students were interested in helping and volunteering
GOSAC DAY 2015
2 cats were adopted.
Almost $1000 in cash donations
Thousands of dollars worth of supplies.
Many happy GOSAC raffle winners.
Check out the photos below. It was a great day.
All donations go to the Armadale Community Animal Rescue Group.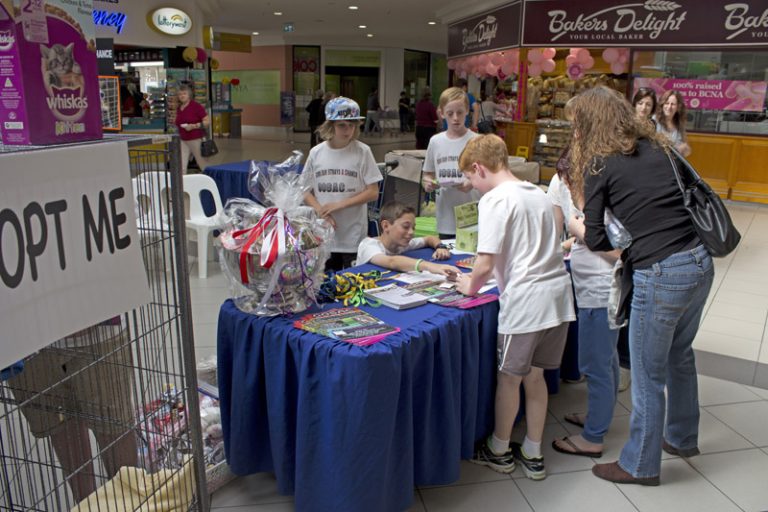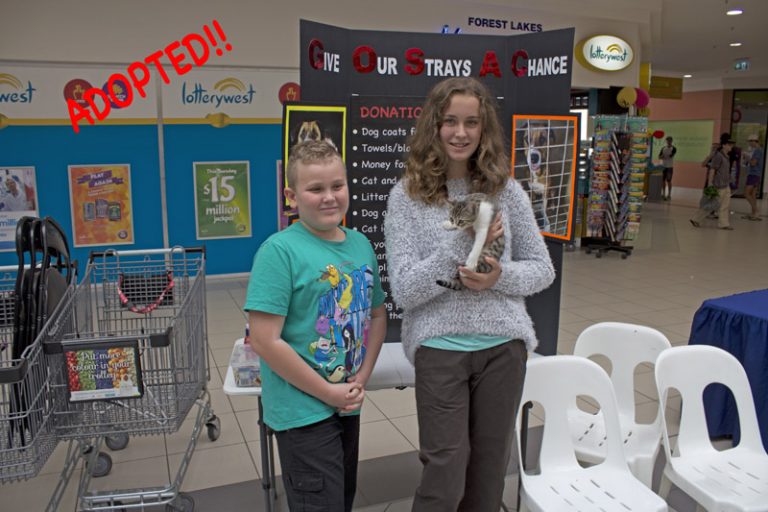 GOSAC DAY 2014
On the 10th of May 2014 GOSAC day was held at the Forest Lakes Shopping Centre.
We were handing out my flyers to raise awareness of adopting animals.
My friends came and helped, we talked to people. We did alottt of talking!
The Armadale Community Animal Rescue volunteers came to help, they were great.
There were about 20 cats on display from the Armadale Community Animal Rescue Group, available for adoption.
We let people pick up the cats and have a cuddle.
We collected donations for the Armadale Rescue. People were queuing to donate! So many people wanted to help!
Many people came from all over the city to donate, some because they had seen me on the news, some because they read about GOSAC day on my website and some were just shopping for mother's day.
It was an amazing day, I can't believe so many people wanted to help.
At 2PM I announced the winners of the raffle. Even after the raffle, people still wanted to donate. As we were packing people were still donating money and supplies.
We raised so far $1600
We raised 4 car fulls of supplies.
People volunteered to help walk the dogs in the shelter.
But best of all: 6 cats were adopted!!
I never imagined I could make so much difference. It was the best day ever.
KELMSCOTT SHOW 2014
On the 18th of October Armadale Community Animal Rescue Group had a stall at the Kelmscott show.
I was there with my friend Angus to spread the word and raise awareness of rescuing animals.
I also collected donations and told people about us trying to build dog kennels for the dogs.